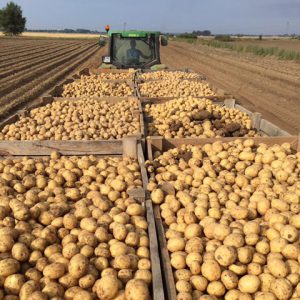 Agriana has identified the most appropriate potato varieties which suit the Polish climate and over the last few years we have been introducing Meijer varieties through a licence agreement before we formed the new company.
We work with customers to optimise their profitability from seed, chip stock, French fry and Table production. The main advantage is the fact that Meijer table varieties show excellent resistance to drought and very strong plants which stay greener for longer. This leads to higher saleable yields within the size expected by the polish supermarket for example.
In terms of table varieties we offer the complete range from earliest in the form of Obama and second earliest in the form of Musica followed by Orchestra. All varieties which demonstrate early growth and size before the dry conditions come to Poland in July and August. In terms of the salad market we have a specialise variety which is called Jazzy which produces many tubers resulting in smaller fractions for specialist customers and the usual 42-70mm for the traditional salad market within Poland. Jazzy is the example of innovation. The variety can be eaten in the skin and is ready to eat in 10 -12 minutes. The variety has a wonderful taste which is being confirmed in Poland as it has won the first price as best tasting potato variety of Poland during the National Potato day this year and 2 years ago Orchestra won the same competition.
Our customers success is our success and people are the most important part of our business in order to change and meet the needs of the market.
Agriana For Sure. We invite you to join us to optimize and adapt to the changing polish market together.
The Quality of people and products; the guarantee for a successful future.
John Williams – Managing Director – Agriana Sp Z o.o.