Comments:
9 = positive ... 1 = negative
(1): L = Light, D = Dark, W = White, G = Yellow, R = Red
(2): Colour of flesh: 8 = Yellow .. 4 = White
(3): Shape of tuber: R = Round, O = Oval, L = Long

| Characteristics | Value |
| --- | --- |
| Maturity | 6.5 |
| Colour of skin (1) | G |
| Colour of flesh (2) | 7 |
| Shape of tuber (3) | L |
| Depth of the eyes | 7 |
| Tuber uniformity | 7 |
| Size of tubers | 7 |
| Grading | 7 |
| Dry matter percentage | 23 |
| Suitability for cooking | 7.5B |
| Dormancy | 7.5 |
| Storage | |
| --- | --- |
| | At 6°C for 8 months. |
Description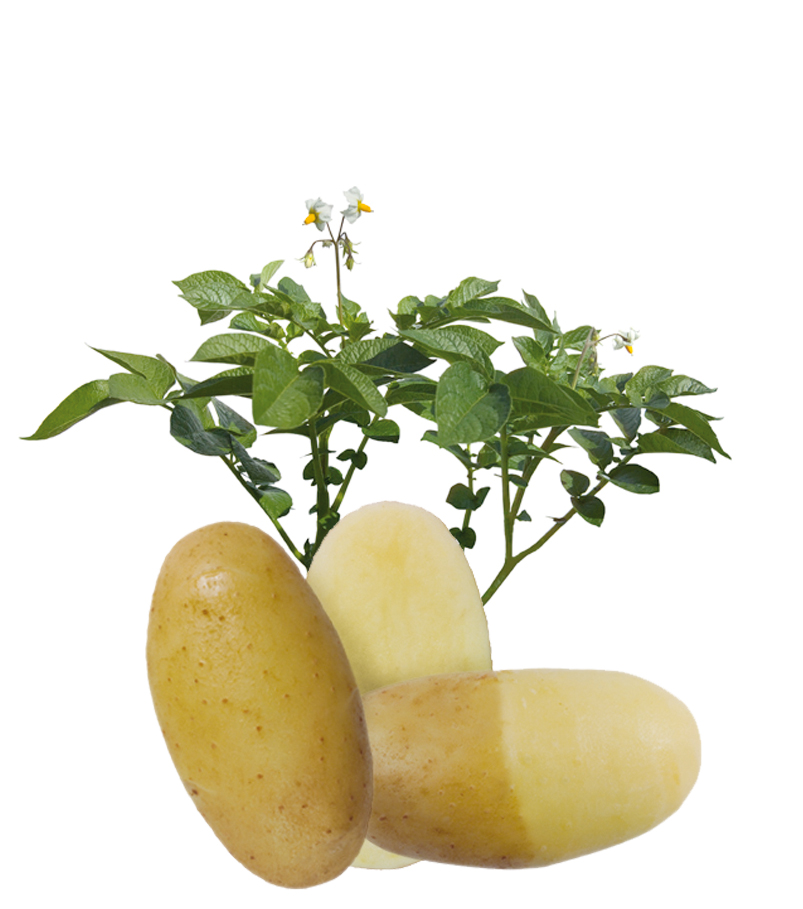 Comments:
R = Resistant ... 1 = Very susceptible
Ro/Pa(x) = Globodera rostochiensis / pallida pathotype(x)

Resistance To Golden Nematode:
Ro1(=A), Ro2/Ro3(=BC), Pa2(=D), Pa3(=E)
(9 = Highly resistant; 1 = Very susceptible)
Wart Disease:
wz 1(D1), wz 2/6 (G1/O1, wz 18 (T1)
(10 = Resistant, 3 = Very susceptible)

| Resistance | Value |
| --- | --- |
| Leaf rol | 7 |
| A-virus | 8 |
| X-virus | 8 |
| Y-virus | 7 |
| Yntn-virus | 7 |
| Foliage blight | 4 |
| Tuber blight | - |
| Common scab | 7 |
| Bruising | 9 |
| Secondary growth | 7 |
| Ro1 | 9 |
| Ro2/3 | 8 |
| Pa2 | 8 |
| Pa3 | 2 |
| wz 1 (D1) | 10 |
| wz 2/6 (G1/O1) | 3 |
| wz 18 (T1) | 3 |
Advice & Tips
If you require specific advice about planting distances or fertilizing please do not hesitate to contact us.
Do not plant early in cold soil
Eyes should be open before planting
Do not plant deeply
Agriana Sp. z o.o. is not responsible for any negative effects resulting from the advice contained in the recommendations.